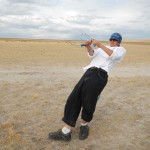 While my schedule is generally very busy, I always enjoy hearing from folks out there in the world – general feedback, kudos on a video or even direct critique, whatever it is, I'd love to hear from you… You'll usually receive a response within 24 hours unless I'm traveling abroad or particularly busy, but I will get back to you!
I am also very active in the main online kite communities, so if your question is about flying technique or equipment, I strongly encourage you to post it on one of the forums listed below for everyone's benefit!
Folks send me general inquiries all the time and while I always want to help, it does make far more sense to have those discussions in a public forum so that future fliers can benefit from it being archived.
Thanks so much,
John Barresi