Forging a new path…
Categories: News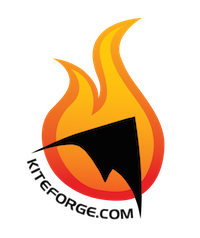 Its been an exciting couple of years, and after a lot of preparation we've finally opened the doors at Kite Forge!
In an manufacturing industry largely populated by folks who do not actually fly kites, we wanted to create a new company that produces designs BY KITE FLYERS, for kite flyers, each one made to be accessible to a wide variety of skill levels including my own kite bag… Every design by Kite Forge that I fly and travel with is stock, straight out of the bag, with no special modifications or adjustments – it's possible to buy exactly what I fly myself.
The first design in our quiver is the Kaiju, an indoor / urban kite designed for light and zero wind conditions to be flown on 7′-12′ lines, indoors, a back yard or a side alley or just about anywhere, and its been extremely well received with deliveries already made to over a dozen countries worldwide and a very active Kaiju owner's group on Facebook.
Coming up next, we have a new quad line in the works called the Djinn… Utilizing a completely original bridle and details inspired from 26 US national titles over 27 years of quad line flying, we are very excited about the progress we've made with our prototypes so far and hope to release more news about availability sometime this summer.
In the meantime, I encourage you to find and follow us on our social media channels:
Deepest thanks for your ongoing interest and support,
JB